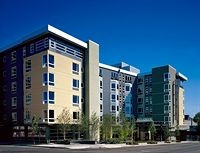 Watertown Hotel - A Piece of Pineapple Hospitality
4242 Roosevelt Way NE, Seattle, WA 98105
1.800.252.6304
Need Help?
Call 1.800.252.6304
About Watertown Hotel - A Piece of Pineapple Hospitality
Watertown Hotel - A Piece of Pineapple Hospitality is a Hotel business in Central District
The Watertown Hotel in Seattles bustling University District offers an innovative spin on amenities in an elegantly modern setting. Upon entering the lobby guests are greeted by a decidedly urbane environment, from designer furnishings to the original modern art gracing the walls. At The Watertown Hotel legendary customer service is a mainstay, and 100% satisfaction is guaranteed.
Location, location, location! The Watertown Hotel offers free loaner bikes for exploring the University District, with its unique shopping and dining options, the beautiful University of Washington campus, and the Burk Gilman bike and jogging trail which heads east all the way to Marymoore park in Redmond, and west to the Locks in Ballard. The Watertown also provides guests with a complimentary shuttle service to the heart of downtown including Pike Place Market, the Seattle Center and Space Needle, and other downtown attractions mere minutes away.
Guest Rooms at the Watertown Hotel provide luxury amenities, modern design, and special extras like their themed Ala Carte service. Amenities include premium bedding, Aveda bath products, a free USA Today delivered to your door (Mon Fri), free high speed internet access, programmable laptop safes, free local calls with voice mail and speaker phone, microwave, refrigerator and coffee maker with fresh Starbucks coffee. Additionally the bathrooms offer an abundance of natural light, and the closets swivel with double doors to cleverly allow access from the bedroom, or the bathroom.
Guests also enjoy a complimentary breakfast bar complete with eggs to order and bacon. Every weekday evening guests are invited to a hosted wine tasting in the hotels wine bar Forty-Two, which also offers an ever changing light fare menu, and wines for purchase. Its a great way to start your evening, enjoy a light dinner and select wine pairings, or end the evening with a glass of wine and dessert.
Amenities
Robes


Premium bedding


Aveda bath products


Double sided closets for access from both the bedroom & bathroom


Programmable in-room laptop safes


USA Today delivered to your room (Mon-Fri)


Free high speed internet access


Microwave, refrigerator, & coffee maker with Starbucks coffee


Cable TV with HBO


Voice mail & speaker phone


Complimentary deluxe breakfast bar


Hosted wine tasting at forty-two wine bar (Mon-Fri)


Free local shuttle to Seattle attractions and hospitals


Free loaner bikes to explore the area


General Store


Exercise Room


Meeting and banquet facilities


Email/internet station in the lobby


Wireless internet access in lobby and meeting rooms


Our Low Price Hotel Guarantee
We are confident that our hotel prices are guaranteed to be the lowest rate you can find. If you find a lower rate for your hotel on another site, we'll refund the difference to you. Book with us and enjoy total peace of mind!
If you find a lower rate at any time up until hotel's cancellation window, we'll match the price. The lower price you find needs to be for the same dates, length of stay and room type.
---
Found a better price?
The lower price you found must be available on another website directed to consumers in the same locale, and must be for the same hotel, dates and room type.
If you used a coupon/discount voucher when you made your original booking, you can still claim under the guarantee. We will use the total discounted price you paid and compare this to the lower price you found in order to calculate your refund.
If you have made a booking which cannot be cancelled — whether it is non-refundable or if you are already within the cancellation window for the hotel — then you can't claim under the guarantee. Bookings that were part of a specific promotion (e.g. 3 nights for the price of 2) are also excluded from claiming under the guarantee.
Once we have confirmed that you are due a refund under the guarantee we will issue the refund to the card you paid with at the time of booking. We will process your refund immediately but it may take your bank up to 30 days to process it and for it to show on your statement.
Why book with us?
Seattle.com doesn't charge cancellation fees
We're just a phone call away: 1.800.252.6304 or 00.800.1610.1690 (Europe)