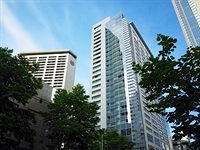 Sheraton Seattle Hotel
1400 6th Ave, Seattle, WA 98101
1.800.252.6304
Need Help?
Call 1.800.252.6304
About Sheraton Seattle Hotel
Sheraton Seattle Hotel is a Hotel business in Denny Regrade
Nestled in the city's vibrant core, The Sheraton Seattle Hotel and Towers is a gateway to all the sights, sounds, and experiences of the fabulous Northwest.
This AAA four-diamond Sheraton Seattle Hotel offers the best of all worlds for the traveler visiting Seattle. Located next to all the sights, sounds, and experiences of the greatest city in the great northwest in fact just steps from Pike Place Market and the world-class shopping, exciting nightlife and gourmet restaurants that surround this magnificent hotel. Business travelers will also be pleasantly surprised by the Sheraton Tower's close proximity to Seattle's business and financial district.
A hotel for all occasions, commitment to detail will not go unnoticed by guests of the Sheraton Seattle Hotel and Towers. All 840 tastefully-appointed guestrooms offer maximum comfort and convenience. Guest can also take advantage of the Sheraton Seattle's modern health club that features a sauna, Jacuzzi, massage, and a comprehensive selection of exercise equipment.
Add the Daily Grill for a casual breakfast, lunch or dinner, or the Lobby Lounge with one of the most fantastic views of Seattle, the Sheraton Seattle Hotel and Towers completes a Seattle stay and play.
At the Sheraton Seattle Hotel and Towers guests discover the perfect blend of staying at a prestigious landmark mixed with the perfect location offering all the recourses to satisfy any need.
Amenities
Starwood Turbo Net Laptop High Speed Internet Access in All Rooms


Dual-Line Telephone


Club Level Room


Towers Level Room


City View Room


Indoor Heated Lap Pool


Business Center/Services


Indoor Whirlpool


Fitness and Spa Facilities/Services


Vending Machines


Our Low Price Hotel Guarantee
We are confident that our hotel prices are guaranteed to be the lowest rate you can find. If you find a lower rate for your hotel on another site, we'll refund the difference to you. Book with us and enjoy total peace of mind!
If you find a lower rate at any time up until hotel's cancellation window, we'll match the price. The lower price you find needs to be for the same dates, length of stay and room type.
---
Found a better price?
The lower price you found must be available on another website directed to consumers in the same locale, and must be for the same hotel, dates and room type.
If you used a coupon/discount voucher when you made your original booking, you can still claim under the guarantee. We will use the total discounted price you paid and compare this to the lower price you found in order to calculate your refund.
If you have made a booking which cannot be cancelled — whether it is non-refundable or if you are already within the cancellation window for the hotel — then you can't claim under the guarantee. Bookings that were part of a specific promotion (e.g. 3 nights for the price of 2) are also excluded from claiming under the guarantee.
Once we have confirmed that you are due a refund under the guarantee we will issue the refund to the card you paid with at the time of booking. We will process your refund immediately but it may take your bank up to 30 days to process it and for it to show on your statement.
Why book with us?
Seattle.com doesn't charge cancellation fees
We're just a phone call away: 1.800.252.6304 or 00.800.1610.1690 (Europe)