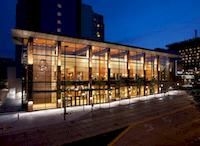 Hyatt Regency Bellevue
900 Bellevue Way Ne, Bellevue, WA 98004
1.800.252.6304
Need Help?
Call 1.800.252.6304
About Hyatt Regency Bellevue
Hyatt Regency Bellevue is a Hotel business in Bellevue
Bellevue Washington Luxury Hotel
Situated in the heart of downtown Bellevue, just a short drive from Seattle, the Hyatt Regency Bellevue offers the convenience and attractions of an urban hotel with striking views of Washingtons natural beauty. Newly renovated guest rooms at this Seattle area luxury hotel offer views of downtown Bellevue, Seattle, Lake Washington and Mount Rainier and are walking distance from a variety of shops, restaurants and entertainment venues.
Guest accommodations at this downtown Bellevue hotel feature beds with pillow top mattresses, luxury linens and down blankets. Prime amenities in each guest room include 32-inch flat-panel TVs, oversized workspaces, high-speed internet access and iHome alarm clocks/iPod docks. With concierge service and a fully equipped business center, its easy to make local sightseeing arrangements or stay on task at the Hyatt Regency.
Home to a variety of high-tech businesses, Bellevue WA is a booming technology center and the Hyatt Regencys 17,000 square feet of flexible meeting and event space makes the hotel a prime location for meetings and conferences. The areas picturesque surroundings also make Bellevue a popular spot for weddings and the Hyatts Grand and Regency Ballrooms offer beautifully appointed space for the big day.
Pacific Northwest Hotel Close to Recreation and Attractions
A short drive from downtown Seattle attractions including the Space Needle, Pike Place Market and the Museum of Flight, the Hyatt Regency Bellevue offers the energy of big city life with the charm of a small town. The nearby Bellevue Crossroads mall is recognized as one of the best shopping centers in the Seattle area and downtown Bellevue is home to a variety of popular restaurants and boutiques.
Close to skiing, fishing, golf, hiking and a variety of water sports, the Hyatt Regency Bellevue caters to active lifestyles. For visitors without the time to take in all of Washingtons recreational activities, the hotel features a state-of-the-art fitness center and heated indoor pool. This Bellevue hotel also offers on-site dining at the 0/8 Seafood Grill and a selection of fine wines at the cozy Twisted Cork Wine Bar.
Whether youre planning a corporate banquet, a Seattle shopping and sightseeing tour or a Washington ski weekend, the Hyatt Regency Bellevue offers comfortable accommodations and a prime location for your stay.
Amenities
382 guestrooms, including 27 suites


Luxury bedding


32" LCD flat-panel television, video on demand, video account, video review, video checkout


Oversized work desk with high-speed Internet access


iHome alarm clock


Full-service concierge; Hyatt E-Concierge


Florist, boutique shops, and salon on property


Dry cleaning and laundry


Valet and self-parking/covered parking


0/8 Seafood Grill and Twisted Cork Wine Bar Pacific


17,000 square feet of flexible function space


Grand Ballroom (5,850 square feet) divides into six sections; Regency Ballroom (2,090 square feet) divides into two sections with windows


Complimentary access to 27,000-square-foot, upscale, state-of-the-art health club


Heated indoor lap pool, two whirlpools, and sauna



Nearby golf at The Golf Club at Newcastle, Willows Run, and Echo Falls Country Club


Skiing, water sports, biking hiking, and many more outdoor adventures nearby


Our Low Price Hotel Guarantee
We are confident that our hotel prices are guaranteed to be the lowest rate you can find. If you find a lower rate for your hotel on another site, we'll refund the difference to you. Book with us and enjoy total peace of mind!
If you find a lower rate at any time up until hotel's cancellation window, we'll match the price. The lower price you find needs to be for the same dates, length of stay and room type.
---
Found a better price?
The lower price you found must be available on another website directed to consumers in the same locale, and must be for the same hotel, dates and room type.
If you used a coupon/discount voucher when you made your original booking, you can still claim under the guarantee. We will use the total discounted price you paid and compare this to the lower price you found in order to calculate your refund.
If you have made a booking which cannot be cancelled — whether it is non-refundable or if you are already within the cancellation window for the hotel — then you can't claim under the guarantee. Bookings that were part of a specific promotion (e.g. 3 nights for the price of 2) are also excluded from claiming under the guarantee.
Once we have confirmed that you are due a refund under the guarantee we will issue the refund to the card you paid with at the time of booking. We will process your refund immediately but it may take your bank up to 30 days to process it and for it to show on your statement.
Why book with us?
Seattle.com doesn't charge cancellation fees
We're just a phone call away: 1.800.252.6304 or 00.800.1610.1690 (Europe)