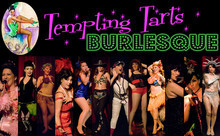 Hours:
Mon-Sat:
5:00 pm - 2:00 am
/
Sun:
11:00 am - 2:00 am
/
About Howl At The Moon
Self proclaiming to be the "world's most dangerous rock 'n' roll dueling piano show," Howl At The Moon in Seattle does have plenty of drinks for the partying crowd and has piano players doing their shtick, but as far as the world's most dangerous...we haven't been to 'em all so it's hard to corroborate Howl's claim. Also, how exactly are piano bars dangerous? Well, we'll tell you that this Seattle bar does pour the cocktails fast and furious from test tubes shots to jello shots and some huge mixed concoctions while the hokey entertainers pound away at the ivories. Also, the staff and patrons frequently join the fun making for an interactive, but not in the wannabe creepy crooner karaoke way, experience.
Tempting Tarts Burlesque is brought to you by producers Morgan La May and Sha Freaka McGee.

The cast is a delicious collection of talented and energetic burlesque and cabaret performers.