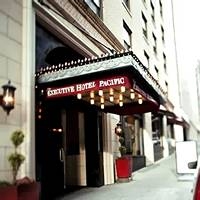 Executive Hotel Pacific
400 Spring St, Seattle, WA 98104
1.800.252.6304
Need Help?
Call 1.800.252.6304
About Executive Hotel Pacific
Executive Hotel Pacific is a Hotel business in Denny Regrade
Located in Seattle's prestigious hotel district, the European style boutique Executive Hotel Pacific is centrally located close to key cultural, retail and business centers. Seattle theaters, the Seattle Art Museum, Art galleries, Seattle Seahawks and Mariners stadiums, great restaurants and Seattle's finest shopping are all within walking distance to the hotel. The Executive Hotel Pacific is also close to Pike Place Market, Pioneer Square, Seattle Convention Center, Benaroya Hall, the Waterfront, and the architecturally renowned Seattle Public Library.
Built in 1928, the Executive Hotel Pacific pays homage to downtown Seattle's European heritage. A gem among Seattle boutique hotels, the hotel offers an intimate and charming refuge in the heart of the Emerald City. The charm of this 1928 hotel has been retained while updating systems and décor. Additions include additional meeting rooms, a business center offering free high speed internet, cardio fitness cetner and the new and The Lodge Sports Grille and Vovito Caffe & Gelato.
Leisure travelers enjoy the Executive Hotel Pacific's location, right in the heart of Seattle and walking distance to theaters, art galleries, restaurants and world class shopping. Also near by are the Pike Place Market, Pioneer Square, Seattle Waterfront, the Convention Center and the architecturally renowned Seattle Public Library.
We pride ourselves on personalized services, inviting accommodations and one very simple philosophy: your comfort is our desire. The Executive Hotel Pacific will make your Seattle visit a memorable experience.
All guest rooms have been designed in a Eurasian theme of rich cherry wood, leather accents and warm and inviting gold and green tones. The bathrooms have been retiled, are surrounded in mirrored walls and feature Corian counters and sinks. While keeping the hotel's heritage in the forefront we have upgraded the plumbing and electrical systems. All rooms feature windows that open.
Complimentary Services
Complimentary in room coffee and tea


Complimentary apples in the lobby


Complimentary newspapers in the lobby


Complimentary city maps


Complimentary luggage storage


Complimentary Business Center with 24 hour guest access


Pets stay free (under 30 pounds)


Amenities
26 inch HD LCD televisions with cable and in room movies


Data port telephones with personalized voicemail


Electronic door locks


Hair dryers


Irons and ironing boards


TV Japan - 24-hour Japanese channel


Concierge services


Umbrellas


Business Center


Paid Shuttle Service to the Cruise Terminal


Cardio Fitness Center


The Lodge Sports Grille


Vovito Caffe & Gelato


Complimentary Evening Wine Reception 5-6pm


Our Low Price Hotel Guarantee
We are confident that our hotel prices are guaranteed to be the lowest rate you can find. If you find a lower rate for your hotel on another site, we'll refund the difference to you. Book with us and enjoy total peace of mind!
If you find a lower rate at any time up until hotel's cancellation window, we'll match the price. The lower price you find needs to be for the same dates, length of stay and room type.
---
Found a better price?
The lower price you found must be available on another website directed to consumers in the same locale, and must be for the same hotel, dates and room type.
If you used a coupon/discount voucher when you made your original booking, you can still claim under the guarantee. We will use the total discounted price you paid and compare this to the lower price you found in order to calculate your refund.
If you have made a booking which cannot be cancelled — whether it is non-refundable or if you are already within the cancellation window for the hotel — then you can't claim under the guarantee. Bookings that were part of a specific promotion (e.g. 3 nights for the price of 2) are also excluded from claiming under the guarantee.
Once we have confirmed that you are due a refund under the guarantee we will issue the refund to the card you paid with at the time of booking. We will process your refund immediately but it may take your bank up to 30 days to process it and for it to show on your statement.
Why book with us?
Seattle.com doesn't charge cancellation fees
We're just a phone call away: 1.800.252.6304 or 00.800.1610.1690 (Europe)