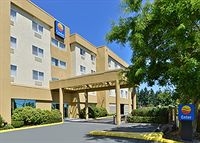 Comfort Inn & Suites Seattle
13700 Aurora Avenue N, Seattle, WA 98133
1.800.252.6304
Need Help?
Call 1.800.252.6304
About Comfort Inn & Suites Seattle
Comfort Inn & Suites Seattle is a Hotel business in Haller Lake
The Comfort Inn & Suites in Seattle comfortable, reliable lodging choice for travelers of every ilk. Located near downtown Seattle, this hotel is within a few miles of destinations like the Space Needle, KeyArena at Seattle Center, the Northgate Mall and the University of Washington. There are also dozens of Seattle restaurants nearby, as well as golf courses, public parks and specialty shops.
Guestrooms at the Comfort Inn & Suites hotel in downtown Seattle feature a variety of amenities designed for convenience and relaxation, including pillow-top mattresses, cable television, coffeemakers and free coffee, voicemail and free WiFi access. Some rooms also feature additional comforts like work desks, microwaves and refrigerators. This Seattle lodging choice treats guests to free deluxe continental breakfasts each morning, and features a sauna, an indoor hot tub and a small fitness center. For business guests, the Comfort Inn & Suites Seattle offers fax and copy services.
Amenities
Afternoon Tea


Computer Hook-up


Computer w/ Internet


DVD Disk Rental *


First-aid staff/24hr


Free Deluxe Continental Breakfast


Copy Service for Guests


Fax Service for Guests


Guest Laundry


Health Club/Spa


Indoor Whirlpool/Hot Tub


Multi-Lingual Staff


Pet-friendly Hotel *


Phone for Hearing Impaired


Popcorn Machine *


Sauna


Speaker Phone


Truck Parking


Our Low Price Hotel Guarantee
We are confident that our hotel prices are guaranteed to be the lowest rate you can find. If you find a lower rate for your hotel on another site, we'll refund the difference to you. Book with us and enjoy total peace of mind!
If you find a lower rate at any time up until hotel's cancellation window, we'll match the price. The lower price you find needs to be for the same dates, length of stay and room type.
---
Found a better price?
The lower price you found must be available on another website directed to consumers in the same locale, and must be for the same hotel, dates and room type.
If you used a coupon/discount voucher when you made your original booking, you can still claim under the guarantee. We will use the total discounted price you paid and compare this to the lower price you found in order to calculate your refund.
If you have made a booking which cannot be cancelled — whether it is non-refundable or if you are already within the cancellation window for the hotel — then you can't claim under the guarantee. Bookings that were part of a specific promotion (e.g. 3 nights for the price of 2) are also excluded from claiming under the guarantee.
Once we have confirmed that you are due a refund under the guarantee we will issue the refund to the card you paid with at the time of booking. We will process your refund immediately but it may take your bank up to 30 days to process it and for it to show on your statement.
Why book with us?
Seattle.com doesn't charge cancellation fees
We're just a phone call away: 1.800.252.6304 or 00.800.1610.1690 (Europe)