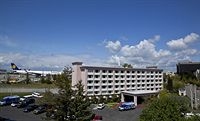 Coast Gateway Hotel Sea Tac
18415 International Blvd, Seatac, WA 98188
1.800.252.6304
Need Help?
Call 1.800.252.6304
About Coast Gateway Hotel Sea Tac
Coast Gateway Hotel Sea Tac is a Hotel business in Sea-Tac
Stay at the airport!
Or, even if you just want the entertainment of watching the planes close up, the Coast Gateway Hotel should be your choice.
The Coast Gateway Hotel is Seattle.com's "Pick" as the best airport hotel, because it's a great value and closest hotel to the airport. You'd virtually touch the planes on the tarmac if it weren't for the oversized soundproofed windows that give the best view of airport activity you'll ever see.
Add the fact that your stay includes a complimentary Belgian waffle continental breakfast with all the trimmings, and that most newly refurbished rooms come with microwave, refrigerator coat rack, an electric shoes shine machine and lush terry robes.
It's an incredible value!
For the business or leisure traveler there's a business center with high-speed Internet- connected computers, a fax machine and a copy machine for your use all free of charge. And the hotel lobby provides for wireless convenience.
Round it all out with a modern fitness center for guests, and you see why Seattle.com picks the Coast Gateway Hotel as the best value for lodging near the Sea-Tac International Airport.
Visit Sharp's Rooster Ale House for lunch or dinner and some of the best micro beers around. Their menu of savory roasted meats caters to your room and to your appetite.
Coming or going, just call the free airport shuttle. It'll get you off to a flying start!
Amenities
Bathrobes


Work desk and data ports


Complimentary in-room coffee and tea service


Hairdryers, iron and ironing board


Pay per view movies, Web TV, and Nintendo


Voice mail


Multi cable channels including CNN, ESPN, HBO, and Weather Channel


Air conditioning


Complimentary continental breakfast


Newly renovated fitness center


24 hour airport shuttle


24 hour bell service


Valet dry cleaning and laundry service


Complimentary self-service laundry facilities


Complimentary overnight parking


Hospitality Lounge available for casual gatherings


Our Low Price Hotel Guarantee
We are confident that our hotel prices are guaranteed to be the lowest rate you can find. If you find a lower rate for your hotel on another site, we'll refund the difference to you. Book with us and enjoy total peace of mind!
If you find a lower rate at any time up until hotel's cancellation window, we'll match the price. The lower price you find needs to be for the same dates, length of stay and room type.
---
Found a better price?
The lower price you found must be available on another website directed to consumers in the same locale, and must be for the same hotel, dates and room type.
If you used a coupon/discount voucher when you made your original booking, you can still claim under the guarantee. We will use the total discounted price you paid and compare this to the lower price you found in order to calculate your refund.
If you have made a booking which cannot be cancelled — whether it is non-refundable or if you are already within the cancellation window for the hotel — then you can't claim under the guarantee. Bookings that were part of a specific promotion (e.g. 3 nights for the price of 2) are also excluded from claiming under the guarantee.
Once we have confirmed that you are due a refund under the guarantee we will issue the refund to the card you paid with at the time of booking. We will process your refund immediately but it may take your bank up to 30 days to process it and for it to show on your statement.
Why book with us?
Seattle.com doesn't charge cancellation fees
We're just a phone call away: 1.800.252.6304 or 00.800.1610.1690 (Europe)