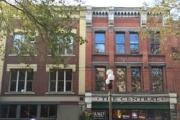 Edit
Central Saloon
207 1st Avenue South
, Seattle
, WA
98104
|
Directions
Hours:
Mon-Sun:
11:30 am - 2:00 am
/
About Central Saloon
Good food and stiff drinks have been the staple at the Central Saloon since this local Seattle bar first opened its doors way back in 1892 and having survived all these years and still kicking is just about all you need to know if you're thinking about swilling some booze there, but we'll give you more. The Central Saloon is still on the cutting edge of the raucous Seattle live music scene featuring a slate of up and comers seven nights a week. Also, the food at the Central Saloon is enough to keep their loyal regulars coming back for the hearty smoked plates doused in the Central's signature barbecue sauce or the burgers and sandwiches that virtually dwarf the plate. Heck, if all this wasn't enough, the prices at Seattle's Central Saloon are very reasonable, but sometimes the cover charges for bands can reach the double digits.
Established in 1892, The Central Saloon is Seattle's oldest bar. Surviving earthquakes, prohibition, and a hundred years of patronage, it has long stood as a haven for the hungry and parched. Blue-collar and businessmen alike sit aside one another at the classic-style Mahogany bar while wine, beer, and spirits flow steadily.