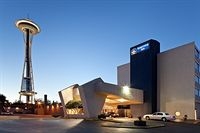 Best Western Plus Executive Inn
200 Taylor Ave N, Seattle, WA 98109
1.800.252.6304
Need Help?
Call 1.800.252.6304
About Best Western Plus Executive Inn
Best Western Plus Executive Inn is a Hotel business in South Lake Union
Only a block from Seattle's famous Space Needle, a stay at the Best Western Executive Inn places the visitor and family close to great Seattle attractions like the Key Arena, Seattle shopping at Westlake Center and Pacific Place, the Seattle Aquarium and the Woodland Park Zoo.
With 123 comfortable guest rooms equipped with all the modern amenities and conveniences, a good nights sleep is still the number one priority at the Best Western Executive Inn.
The Best Western Seattle Executive Inn is also the perfect choice for the business traveler.
A 24-hour business center on site as well as 11 meeting rooms, one that will accommodate over 250 guests, the Best Western Executive Inn is perfect for any business visit to Seattle.
And relax — the Best Western Executive Inn provides a fitness facility, hot tub, and whirlpool.
The Best Western Executive Inn offers two restaurants. Brella's Restaurant serves delicious Northwestern cuisine and offers a fabulous collection of award winning wines, making it a favorite choice for pleasurable dining in Seattle. For casual dining, Brella's Sports Lounge is the perfect spot to gather amongst friends to watch the latest sporting events.
Amenities
$15 Daily Parking


Deluxe Hot Breakfast available for $4.95 + tax per person


Premium cable television


AM / FM alarm clock


Free local calls up to 30 minutes


Wake-up calls (on-request)


Voicemail


Coffee / tea maker


Hairdryer


Iron / ironing board


Air conditioning


Room Service


Cribs (fee)


Rollaway beds (fee)


4:00 pm Check-in


11:00 am Check-out


Our Low Price Hotel Guarantee
We are confident that our hotel prices are guaranteed to be the lowest rate you can find. If you find a lower rate for your hotel on another site, we'll refund the difference to you. Book with us and enjoy total peace of mind!
If you find a lower rate at any time up until hotel's cancellation window, we'll match the price. The lower price you find needs to be for the same dates, length of stay and room type.
---
Found a better price?
The lower price you found must be available on another website directed to consumers in the same locale, and must be for the same hotel, dates and room type.
If you used a coupon/discount voucher when you made your original booking, you can still claim under the guarantee. We will use the total discounted price you paid and compare this to the lower price you found in order to calculate your refund.
If you have made a booking which cannot be cancelled — whether it is non-refundable or if you are already within the cancellation window for the hotel — then you can't claim under the guarantee. Bookings that were part of a specific promotion (e.g. 3 nights for the price of 2) are also excluded from claiming under the guarantee.
Once we have confirmed that you are due a refund under the guarantee we will issue the refund to the card you paid with at the time of booking. We will process your refund immediately but it may take your bank up to 30 days to process it and for it to show on your statement.
Why book with us?
Seattle.com doesn't charge cancellation fees
We're just a phone call away: 1.800.252.6304 or 00.800.1610.1690 (Europe)