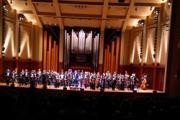 Edit
Benaroya Hall (Seattle Symphony Orchestra)
Hours:
Mon-Sat:
12:00 am - 11:59 pm
/
About Benaroya Hall (Seattle Symphony Orchestra)
Benaroya Hall, located in Downtown Seattle, is home to the Seattle Symphony Orchestra--one of world's most recorded orchestras. Benaroya Hall's two auditoriums have incorporated state-of-the-art technology to enhance the building's acoustics. The Mark Taper Auditorium, the larger of the two, can seat up to 2,500 people comfortably. The smaller auditorium, the Nordstrom Recital Hall, holds 500. This Downtown Seattle landmark is sure to impress anyone who enjoys fine music and performances.
Benaroya Hall, home of the Seattle Symphony, is Seattle's first facility designed exclusively for symphonic music performances. Located on an entire city block in downtown Seattle, the hall inspires connections in the city through music, ideas, laughter and the arts.