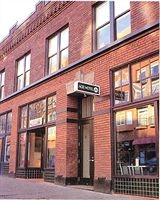 Ace Hotel
2423 1st Ave, Seattle, WA 98121
1.800.252.6304
Need Help?
Call 1.800.252.6304
About Ace Hotel
Ace Hotel is a Hotel business in Belltown
As Time Magazine describes them (writers, directors, TV and movie personalities, architects and designers) Today's Fusion Conscious Urbanites all nest here at Seattle's Ace Hotel.
This is a stay in Seattle you'll not soon forget, because the Ace is not only hip, it's got the perfect location near all of Seattle's top restaurants, night spots and attractions like Pikes Market, Rainier Square shopping, and all of the fun of downtown Seattle's network of hipster cafes, art galleries, shops and cool clubs.
The Ace is the ultimate for the Urban Nomad on a mission.
The Ace's 28 guestrooms combine sleek, 21st Century futurism with the classic flavor and affordability of European lodging all in an historic building.
"Cash-conscious urban nomads flock to Seattle's Ace Hotel for a fusion of European Pensione and minimalist luxury."
--Architectural Record
Loft-like ceilings, hardwood floors and a single sink & vanity adorn every room. Guests share highly styled and well-appointed bathrooms. Deluxe rooms feature private baths.
And high-speed Internet connections are everywhere.
Begin the day with The Ace's daily complimentary continental breakfast.
Our Low Price Hotel Guarantee
We are confident that our hotel prices are guaranteed to be the lowest rate you can find. If you find a lower rate for your hotel on another site, we'll refund the difference to you. Book with us and enjoy total peace of mind!
If you find a lower rate at any time up until hotel's cancellation window, we'll match the price. The lower price you find needs to be for the same dates, length of stay and room type.
---
Found a better price?
The lower price you found must be available on another website directed to consumers in the same locale, and must be for the same hotel, dates and room type.
If you used a coupon/discount voucher when you made your original booking, you can still claim under the guarantee. We will use the total discounted price you paid and compare this to the lower price you found in order to calculate your refund.
If you have made a booking which cannot be cancelled — whether it is non-refundable or if you are already within the cancellation window for the hotel — then you can't claim under the guarantee. Bookings that were part of a specific promotion (e.g. 3 nights for the price of 2) are also excluded from claiming under the guarantee.
Once we have confirmed that you are due a refund under the guarantee we will issue the refund to the card you paid with at the time of booking. We will process your refund immediately but it may take your bank up to 30 days to process it and for it to show on your statement.
Why book with us?
Seattle.com doesn't charge cancellation fees
We're just a phone call away: 1.800.252.6304 or 00.800.1610.1690 (Europe)